You will head towards the east coast of Tahiti to visit the James Norman Hall House. The home displays the daily environment of this poet and writer of American contemporary literature. Enjoy a local delicacy before you continue on to Matavai Bay, and reach Venus Point, the historic landing site for most European discoverers and evangelists. Matavai Bay boasts the only lighthouse of the island, built in 1867. A Handicraft Center is located next to the lighthouse and you will have a brief opportunity for some local shopping.  Your last stop will be at the Tahara'a View Point for an extraordinary photo opportunity overlooking Papeete and Moorea.
A local, open-air truck with individual cushioned bucket seats takes you on a leisurely, guided tour. Your guide will share with you the history of the Tahitians, in particular that of Bora Borans. Witness how the popular pareo (wrap-around skirt) is made, learn about tupa crabs, and taste locally grown fruits and learn about relics left behind by the U.S. Military.. Admire the ever-changing colors of Bora Bora's world-famous lagoon and discover tropical flowers and trees among the dense green vegetation on the mountainside. Central Mount Otemanu, standing at more than 2,400 feet high, dominates the island and overlooks the turquoise lagoon and Bora Bora's crown of coral islands.  Pass by the east coast of Bora Bora, site of some impressive resorts, before reaching Matira Point, boasting the prettiest sand beach of
Discover Huahine from the ocean, its beautiful landscapes and gorgeous lagoon. Onboard your covered boat you will see Huahine Iti (Small Huahine) and Huahine Nui. Head towards Motu Vaiorea. You will anchor near an islet and enjoy some snorkeling in the crystal clear lagoon. After donning a mask and snorkel, enter water and swim amid the marine life. Underwater sightings may include butterfly fish, groupers and hundreds of other rainbow-colored species. Get acquainted with the tropical flora and fauna. Refreshments will be served.
Board a comfortable boat with a cover to protect you from the direct rays of the sun and travel along a colorful lagoon. Dive into this magnificent lagoon — there's no need to be a skilled diver to swim freely in the warm waters and enjoy this experience. The boat will take you near a gorgeous sandy islet surrounded by transparent turquoise waters. You will be able to enjoy time for snorkeling and even glide with the stingrays in these clear waters. As with all creatures in their natural environment, there is no guarantee you will see stingrays, and tickets are non-refundable should a sighting not occur.  Guests may remain in the boat, but from there viewing will be limited.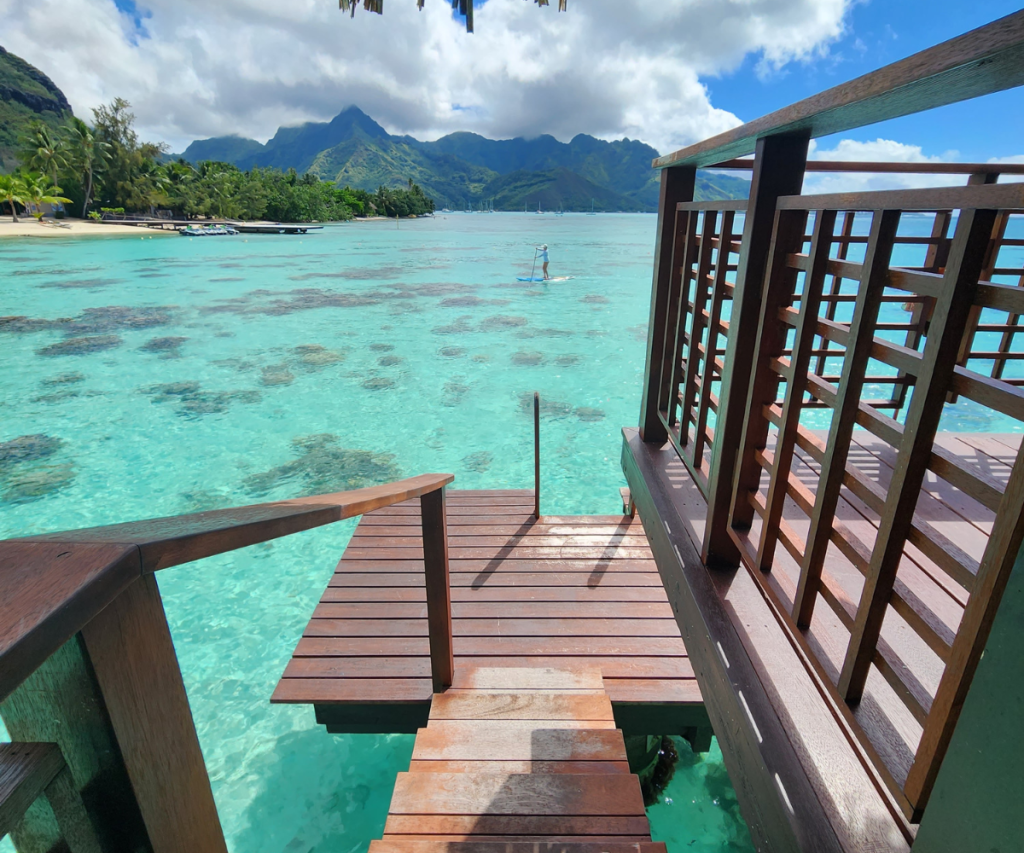 Board a 4-wheel-drive vehicle for a ride through Moorea's deep valleys and mountains. In the Paopao Valley you'll pass some pineapple plantations, then cross to the territorial property of Opunohu. A stop at one of the numerous marae (ancient, sacred site) will allow you to learn more about Polynesian culture. Continue to the Belvedere Lookout point for a panoramic view of Cook and Opunohu Bays, weather dependent you will get an impressive panorama from here.  Return through the interior trails of the Rotui Mountain and get acquainted with the local flora. A stop on the way will allow you to enjoy a refreshment. Viewpoints will be part of your drive and give you multiple opportunities for photographs. Some of the venues may be closed on weekends and holidays, alternative routes will be used according to availability.
Raiatea: Anapa Pearl Farm
3 Hours
Moderate
Boating | Culture | Essentials Collection | Refreshments
A scenic, 15-minute drive will bring you to the pier where you'll take a boat ride out to Raiatea's reef. The sound of waves breaking on the reef and the spectacular palette of colors surrounding you are pure magic from the moment you arrive at Anapa Pearl Farm. Visit a small pearl station built over the lagoon, where your guide will unveil all the secrets of Tahiti's mysterious black pearl. Witness the pearl harvest, and see how a black pearl is cultured. You'll see the grafter performing the "operation" on the pearl. This is a fascinating look at one of nature's unique and most beautiful gifts. Seeing these rare pearl oysters during their underwater slumber is a truly unforgettable experience. Don't miss snorkeling on Raiatea's stunning reef—a true coral garden filled with a large variety of tropical fish. After your time in the water, relax while drinking fresh fruit juice and enjoy the view of Bora Bora rising above the reef.